Molecules, start your engines!
Bridges Team
The Bridges Team at the Office of Science and Technology, Austria Washington DC.
Molecules, start your engines!
The Molecule-car Race International is not your conventional car race. Hosted later this year in Toulouse, France, the Molecule-car Race International will be the world's first car race in which each vehicle is a molecule!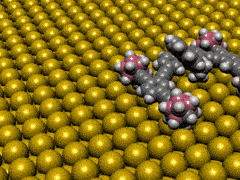 Austrian scientists will be among the participants in this first-ever edition of the Molecule-car Race International. A joint team consisting of scientists from Graz University of Technology & Rice University has created the world's first single-molecule car!
#NanoCarRace the first-ever race of molecule-cars! https://t.co/1owGojFY7u pic.twitter.com/w4p489oRNo

— CNRS (@CNRS) November 25, 2015
Much like a typical car, molecule-cars preferably have a chassis, four wheels, and a molecular motor. However, unlike your traditional sedan or minivan, these structures are "… made of well-defined organic groups with pivoting suspension and freely rotating axles. The wheels are buckyballs, spheres of pure carbon containing 60 atoms apiece. The entire car measures just 3-4 nanometers across, making it slightly wider than a strand of DNA."
To put this in relative terms: A human hair is about 80,000 nanometers in diameter!
Fans should not expect an inferno speed challenge – nor an inferno of any kind, as the surface of the runway is kept at 5° Kelvin (- 268°C) during the competition! In Toulouse, Austria will go up against teams from France (CEMES-CNRS), Japan (MANA-NIMS), Germany (Dresden Technical University), and the USA (Ohio University). As noted on the official website, the race itself will last no more than 2 days and 2 nights, including the time required for each competing team to construct its own identical runway, atom by atom.
Want to learn more about the Molecule-car Race International? Take a peek at this link to see a molecular-car in action!
Comments
No comments made yet. Be the first to submit a comment